EDEN GRINSHPAN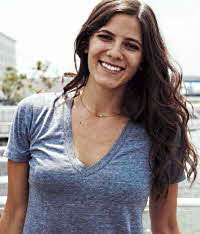 Eden Grinshpan graduated from Le Cordon Bleu in London with the "Grande Diplome" in both Pastry and Cuisine.

After graduating she went to India to volunteer with different organizations, one of them being an orphanage called Ramanas Garden. Here she came up with the idea of raising money for the orphanage by re-opening a café, which had not been in operation for some time, and teaching the children the basics of culinary cuisine.

After returning to New York City, Eden enrolled in a management program at The Institute of Culinary Education before working at the bakery, Babycakes.

Eden is the co-owner of EthNicitY Productions, and hosts EDEN EATS, a traveling show to find global cuisine in cities across the US premiering on Cooking Channel in August 2012. Eden takes viewers on a weekly culinary adventure through the most unexpected U.S. cities serving up authentic global cuisine in Eden Eats. Over the course of eight episodes, Eden visits a different city each week to discover original recipes and the incredible stories behind them. She meets the immigrants and locals who make up the backbone of every city and who reconnect with their culture and traditions through food. Whether she's at a Kenyan restaurant for lunch in Baltimore or enjoying a traditional Burmese meal in Honolulu, Eden brings her passion for people and adventure everywhere she goes.