DANA HERBERT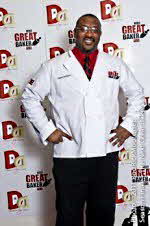 Dana Herbert, owner of Desserts by Dana, resides in Bear, Delaware. Chef Herbert lives and breathes in the sweet and artistic world of pastry art, where flavor and color come to life in his wonderful wedding cakes, sugar sculptures, and custom cakes for all occasions. Dana is an expert sugar artist with a number of nicknames. He's best known as "The Sugar Daddy" because of his work with pulled and blown sugar but is also known as Delaware's "King of Cakes."

Chef Herbert has recently garnered a lot of attention for his big win on 'Cake Boss: The Next Great Baker', a hit show on TLC which premiered in December 2010. After excelling in both design and taste in each episode, he took home the gold (and a new car!) in the finale. All of Delaware's residents have supported "The Sugar Daddy" throughout the show's season. He also was invited to work in Hoboken with Buddy Valastro and can be seen on episodes of 'Cake Boss'.

Dana is a 1998 graduate of the University of Delaware with a Bachelor's degree in Hotel, Restaurant, and Institutional Management. While in college, Chef Herbert was involved in the National Society of Minorities in Hospitality (NSMH), serving as the chapter president and eventually the National Chairperson for the organization.

After graduating from UD, Chef Herbert continued his education at Johnson and Wales University (JWU), where he completed a second Bachelor's Degree in Culinary Arts and an additional Associates of Arts in Pastry. During his study at JWU, he worked for the Four Seasons Boston. Later, Dana worked for the Philadelphia Downtown Marriott as the In-House Pastry Chef. During that time, Dana also had the unique opportunity of being the Pastry Chef for the 2006 American Culinary Federation National Convention and cooking for the Philadelphia Chapter of the Chaine Des Rotisseurs.

Currently, Dana is the Head Chef at the Delaware River and Bay Authority in New Castle and is also a member of Kappa Alpha Psi Fraternity Inc. (Wilmington Alumni Chapter), the International Cake Exploration Society (ICES), and the American Culinary Federation.

Dana had made a 6-foot sugar flower arrangement for the Philadelphia Flower Show, a Philly sports-themed piece for ESPN, and sculptures for the Paris Gourmet and Cacao Noel Pastry Exhibition. Sugar sculptures can be more delicate than single-pane glass, so it takes years to master the complicated relationship between sugar and temperature. Chef Herbert has clearly honed his skill through time and effort to create his wonderful pieces.

Chef Herbert has designed one-of-a-kind cakes for Jill Biden, Asante Samuels of the Philadelphia Eagles, Kijafa Frink fiancé of Michael Vick of the Philadelphia Eagles, Jimmy Rollins of the Philadelphia Phillies, Dick Vermeil of the Philadelphia Eagles, famous Jazz musician Najee, the Marriott, Sysco, the Philadelphia International Airport, HSBC, the University of Delaware, and many more. Chef Herbert has also been featured on WEtv for Wedding Cake Wars, TLC's Ultimate Cake Off, and many local television magazine programs.

Chef Herbert's work was also featured in a section of American Cake Decorating Magazine as well as Essence, Delaware Today, and many others. Desserts by Dana was selected for the Best of Delaware 2010 for contemporary wedding cakes. He is married to his wonderful wife Netesha, and they have just welcomed their first child, Siani Rose, in February 2011.