Vampire Repellant
FOOD FOR THOUGHT - October 22, 2003 - Mark R. Vogel - [email protected] - Archive
See also: Buying & Using Garlic; Garlic Quotes; Garlic Trivia;
Kitchen Tips
Garlic Mashed Potatoes Recipe below
Garlic. What would we do without it? Garlic's reputation precedes itself. And a ponderous reputation it is. Garlic has been alleged to perform everything from curing countless illnesses to warding off evil spirits and vampires. The Egyptians fed garlic to the slaves who built the pyramids believing it increased their physical strength.
Man has harvested garlic for at least 5,000 years. Horticulturists argue about its exact origins but a popular theory places its genesis in, of all places, Siberia. Modern medicinal claims purport that garlic lowers cholesterol and blood pressure, aids circulation, alleviates coughs and colds, and has anti-oxidant and anti-cancer properties. Garlic contains vitamins B1, B2, and C, niacin, and a wide variety of minerals including calcium, phosphorous, potassium, selenium, germanium, zinc and manganese. Miracle bulb or not, Americans consume 300 million pounds of garlic each year! The only bad thing that can be said about garlic is it's odorous side effects. These occur because the essential oils in garlic permeate the lung membranes and are then expelled during exhalation. Garlic's scent also exudes from our skin.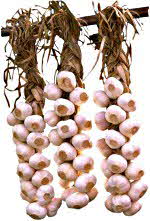 Garlic is a member of the lily family and is related to the onion clan. The most common types of garlic found in the US are the American garlic, (colored white), and the Mexican and Italian garlic which have a purplish or rose colored hue. The American is the most pungent. Elephant garlic is not real garlic and is exceptionally mild. Choose heads that are firm, heavy for their size, and with all their cloves in tact. Store garlic in a cool dry place but never the refrigerator.
One of my favorite things to do with garlic is to roast it. At what temperature and for how long depends on whom you ask. An Internet site suggests 325 degrees for an hour and a half. James Peterson's vegetable book states 350 to 400 for 35 minutes. My CIA (Culinary Institute of America) textbook recommends 425 degrees for 20-30 minutes. Go figure. Just do this. Sprinkle the head with olive oil, loosely wrap it in foil, and stick it in the oven until the cloves are soft. The end result is magnificent. You can squeeze the garlic out of its paper jackets like thick butter and spread it on everything imaginable.
Distribute it under the skin of a chicken before roasting. Smother your steak or pork chops with it. Or, for a healthy, low-fat, and tasty vegetable alternative, steam your vegetables and then cover them with the roasted garlic. You could even temporarily convert me to healthy eating this way.

Speaking of healthy eating, here are a number of ways of making garlic bread, from lowest to highest calories. For totally guilt free garlic bread, simply spread the roasted garlic on toasted slices of bread with no butter or oil. It won't be very rich but it will still be delicious. For semi-decadence, you can sauté chopped garlic in olive oil and then spread it on the bread and toast it. Here you'll pick up some calories but at least the olive oil, devoid of saturated fat, has some health benefits. If you're in my camp, then you believe we should invert the food guide pyramid and laugh in the face of death. Sauté that chopped garlic in butter and then spread it, butter and all on the bread.
Another mouth watering alternative is eating garlic raw. I cannot think of a better example than bruschetta. Here is an unequivocally delicious, healthy, and relatively low calorie dish, requiring only a bottle of red to be transformed into a meal in itself. Chop up tomatoes that are at the peak of ripeness. Ripe tomatoes are absolutely essential for that ultimate flavor. Mix in an ample amount of fresh chopped garlic, some basil, kosher salt, and extra virgin olive oil. (I'll leave the amount of olive oil up to you). Lightly brush your sliced bread with some olive oil, or leave it plain if you like, toast it in the oven, and then coat with the tomato/garlic mix. Yum!
Finally, to keep these ideas balanced between the dieters and the indulgers, here's my recipe for sinfully rich....
RECIPE
Garlic Mashed Potatoes
Ingredients
• 4 Idaho potatoes peeled and chopped into a large dice.
• 6 ounces heavy cream
• 3 ounces butter
• 6- 8 cloves garlic
• Salt and pepper to taste
Directions
Bring the potatoes to a boil and simmer until tender. Finely chop the garlic and simmer it in the cream and butter for about three minutes. Strain the pieces of garlic from the cream. Pass the cooked potatoes through a food mill or a ricer. Add the cream to the potatoes and mix until smooth. Add salt and pepper to taste. And yeah, you can cut back on the amount of cream and butter if need be.