VIDALIA ONION HISTORY
The Vidalia® Onion story began over 70 years ago in Toombs County, Georgia. In 1931, a farmer by the name of Mose Coleman discovered the onions he had planted were not hot…they were SWEET! It was a struggle to sell the concept of a "Sweet" onion, but Coleman persevered and managed to sell those first crops for $3.50 per 50-pound bag.
In the 1940s the state of Georgia built a Farmer's Market in Vidalia which greatly aided in spreading the word about "those Vidalia Onions" which is how they got their famous name. Vidalia Onions even began appearing on the shelves of Piggly Wiggly during this time as well.

Through the 1950s & 60s production grew at a slow but steady pace, reaching some 600 total acres of Vidalia Onions harvested annually by the mid 1970s. By 1977 the Onion had achieved such success that it merited its own festival. In 1980, the Vidalia Onion official mascot was created; Yumion is a colorful character designed to appeal to children of all ages is a regular at area parades as well as nationwide events.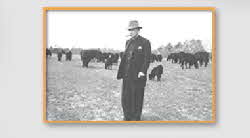 Planting & Growing
There are about 15 seed varieties of onions approved for planting as Vidalias by the Georgia Agricultural Commission. The planting process starts by producing seedlings that are allowed to germinate in a controlled environment. Once enough of the seedlings been properly germinated, they are inserted into the unique low sulphur soil by hand. Georgia's 130 registered growers plant an estimated 15,000 acres of Vidalia Onions. A 70,000 plants are produced on each acre and are typically planted in 14 inch rows between 4½ -6 inches apart. Irrigation is utilized to water the Onions when Mother Nature deprives the Vidalia Onion growing region with needed rainfall. During the growing season temperatures average in the mid-50s in the winter and mid-70s in the spring and rainfall averages 3½ inches. This combination produces a sweet, mild Vidalia Onion with a somewhat flat top and bottom.

Harvesting
Harvesting typically occurs from late April through mid-June. The delicate nature of the Onions requires that they be harvested by hand. Standard practices in onion harvesting include undercutting the onions, allowing them to cure (air dry) for two to three days, clipping the tops and roots, bagging in burlap sacks, transporting to a warehouse, drying, grading, bagging or boxing, and shipping.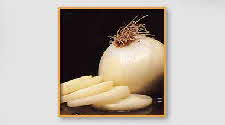 Storage & Handling
To preserve Vidalia Onions for a longer period of time, wrap them separately in paper towels and refrigerate.

Vidalia Onions can also be successfully stored in the legs of clean, sheer pantyhose with a knot tied between each one. Hang in a cool, dry, well-ventilated place.

Keep Vidalia Onions cool and dry at all times.

Nutritional Information
Vidalia Onions are a good source of Vitamin C, Fat Free, Cholesterol Free, and Sodium Free.
Nutritional Value of Onions:

Serving Size………….raw, 1 medium onion (148 grams)
Calories…………………60
Protein………………….1 gram
Carbohydrate……….16 grams
Total Fat……………….0
Saturated Fat……….0
Sodium………………….5 milligrams
Potassium…………….200 milligrams
Dietary Fiber…………3 grams

Vidalia Onion® Museum
On April 10, 2003 the Vidalia Onion Museum was opened to the public. The Vidalia® Onion museum was created to inform and educate the general public about all things related to the Vidalia Onions. Visitors to the center will be able to learn about the history, growing conditions, harvesting and consumption of the Vidalia Onion and will be able to view a DVD presentation on the Vidalia Onion's journey from "Field to Fame".
For additional information, visit the Vidalia Onion Committee Website
www.vidaliaonion.org