Vegetables - See also Leeks, Description & Tips

LEEKS 2
This hardy vegetable belongs to the lilly family and is native to eastern Mediterranean. Romans brought the leek to Europe and where it has been cultivated for centuries.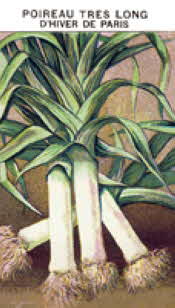 It thrives in cooler climates and actually tastes better after exposure to a few frosts.

It is a popular vegetable in the Middle East and Albania where it thrives.

It can be parboiled and marinated to serve as an appetiser, or stewed in olive oil with carrots, tomatoes and rice.

European chefs like to use in soups (vichyssoise) and cock-a-leeky) and mix it with potato preparations for extra flavour. Only the white part of the leek is used.

Leek is grown in most Middle eastern countries on high altitude land, Europe and North America.
Article contributed by Hrayr Berberoglu, a Professor Emeritus of Hospitality and Tourism Management specializing in Food and Beverage. Books by H. Berberoglu