Thai Cuisine Restaurant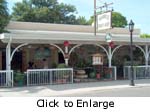 513 Greene, Key West, Florida
Phone: (305) 294-9424
Hours: Mon-Fri Lunch and Dinner
Sat-Sun Dinner only
Dine In, Take Out and Delivery.
Parking: Metered street parking; off street parking at local businesses after banking hours.

REVIEW
Even with the rich and abundant number of good places to eat on this 4 by 2 mile island no matter where you live or visit you get a yearning for Chinese food on occasion. In my opinion we might as well have no Chinese restaurants in Key West since the 2 we have are among the worst in overall quality that I have ever eaten at. What alternative(s) do we have then? I chose Thai Cuisine located in the Old Town area close to the bottom of Duval.

I know there are many who say you can't compare Chinese cuisine with Thai, but they are close enough to satiate that urge I previously mentioned. You can order anything on the menu with the traditional Thai spiciness or ask for it to be toned down, but what you notice right away is how fresh the beef, pork and vegetables are and the generous the portions. You will also be unable to avoid starting your meal without the coconut milk, chicken and mushroom soup that is so rich and flavorful it will take you a while to eat because you'll want to savor the experience.

If there were a down side to dining here it would be a good news bad news scenario. The good news is that it's downtown and the bad news is the same. You can sit outside in the café like environment and watch people shop and enjoy the Key West sites the old town area provides, but you'll have to walk there because downtown has a serious deficit in parking spaces. Thai Cuisine offers it's menu as take out and delivery so you may want to take that option, or just make the restaurant a stop in your own tour of the town. Either way a friendly face will greet you.

Key West is well known for it's ethnic, social and racial diversity. The city's slogan is "One Human Family," and when you blend in the uniqueness of the city itself you can enjoy this special blend in your eating experience and Thai Cuisine gives you that opportunity.
Doug Heyman for the Food Reference Website