SPINACH POLENTA WITH DILL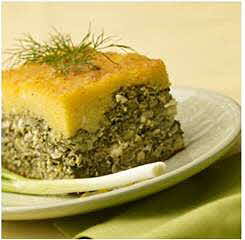 A National Spinach Day Recipe (March 26)
courtesy of Maria Zoitas*

INGREDIENTS
• 4 tablespoons extra virgin olive oil, plus additional for drizzling
• 1 large onion, finely chopped
• 4 garlic cloves, finely chopped
• 2, 10-ounce packages frozen chopped spinach, cooked according to package directions and squeezed dry
• ¼ cup finely chopped fresh basil (optional)
• Salt and pepper, to taste
• 3 cups low-sodium vegetable broth
• 2 cups coarse-ground yellow cornmeal
• Fresh dill and scallion, for garnish (optional)

DIRECTIONS
• Preheat the oven to 375°F. Lightly oil a 10-inch ceramic pie plate; set aside.

• Heat 2 tablespoons oil in a large skillet over medium heat. Add the onion and cook, stirring, until softened but not browned, about 3 minutes.

• Add half of the garlic and cook, stirring, 1 minute.

• Add the spinach, chopped basil (if using), salt, and pepper; stir until thoroughly combined.

• Remove from heat and set aside.

* Recipe courtesy of Maria Zoitas, creator of "Maria's Homemade" line of prepared food sold exclusively at Westside Market NYC
www.wmarketnyc.com/