Spicy Buffalo-Style Meatballs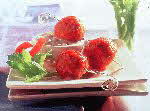 Sure to be a hit at your next get-together.
Servings: About 3 dozen
Prep Time: 10 minutes
Cook Time: 10 minutes

Ingredients:
• 1 package (about 18 oz.) fully-cooked beef meatballs
• 2-3 Tbsp. hot pepper sauce
• 2 Tbsp. butter, melted
• 1 Tbsp. honey

• Prepared blue cheese dressing
• Prepared ranch dressing
• Celery sticks

Instructions:
Cook meatballs according to package directions.

Meanwhile, combine hot pepper sauce, butter and honey in large bowl; mix well.

Add meatballs; stir to coat. Serve with dressings and celery sticks, as desired.

Recipe courtesy of the Texas Beef Council