Meatball & Veggie Platter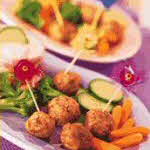 A great snack-time idea.
Servings: Serves 4
Prep Time: 25 minute
Cook Time: 5 minutes

Ingredients:
• 20 frozen fully-cooked, original flavor beef meatballs
• 2 cups broccoli florets
• 2 Tbsp. water
• 1/2 medium cucumber
• 1 cup baby carrots

Dipping Sauce:
• 2/3 cup prepared ranch dressing
• 1/4 cup grated Parmesan cheese

Instructions:
Place ranch dressing and Parmesan cheese in small bowl. Stir to mix well. Cover with plastic wrap and refrigerate.

Place broccoli and water in 1-quart microwave safe casserole.

Cover and microwave on HIGH 2 to 3 minutes or until broccoli is starting to get tender.

Using pot holders, remove casserole and uncover. Using slotted spoon, transfer broccoli to a large serving platter.

Cut cucumber crosswise into 1/4-inch thick slices.

Place meatballs on papertowel-lined microwave-safe plate.

Microwave on HIGH 2 to 2 1/2 minutes or until heated through.

Meanwhile, arrange broccoli, cucumber, carrots and bowl of sauce on platter, leaving room for meatballs.

Using pot holders, remove plate of meatballs from microwave. Using tongs, place meatballs on platter.

Serve with toothpicks for dipping.

Recipe courtesy of the Texas Beef Council