SKILLET PORK HASH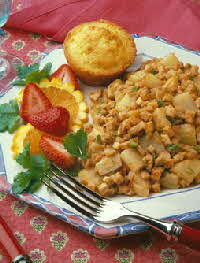 Serves 4.

Ingredients
· 1 pound boneless pork loin, cut into 1/2-inch cubes
· 1 tablespoon olive oil
· 1 16-ounce package refrigerated cooked, peeled and diced potato
· 1 cup chopped onion
· 1 cup chopped green bell pepper
· 1 clove garlic, crushed
· 1/3 cup chicken broth
· 1 teaspoon dried thyme
· 1 teaspoon salt
· 1/4 teaspoon pepper
· 2 tablespoons chopped fresh parsley

Cooking Directions
Heat oil in large ovenproof skillet over medium high heat. Cook pork 3-4 minutes, until slightly brown. Stir in potatoes, onion, green pepper, garlic, broth, thyme, salt and pepper, cover, lower heat and simmer for 8-10 minutes. Place skillet under broiler 4-5 inches from heat source. Broil until surface of hash is crisp and golden brown, about 2 minutes. Sprinkle with parsley.

Serving Suggestions
Have some leftover pork roast and potatoes? Cut up and toss together for a hearty winter breakfast---or supper—treat. For dinner, serve with crusty hard rolls and a fruit salad. As part of a morning menu, serve with fresh fruit and muffins.

Nutrition Facts
Calories 330 calories; Protein 28 grams; Fat 12 grams; Sodium 650 milligrams; Cholesterol 70 milligrams; Saturated Fat 3 grams; Carbohydrates 29 grams; Fiber 3 grams

Recipe and photo courtesy of National Pork Board.
For more information about The Other White Meat, visit TheOtherWhiteMeat.com