SHRIMPY RICE BRUNCH BAKE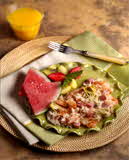 IACP "5 Ingredient Challenge" recipe contest winner- Pat Ernst Dugan
Yield: Makes 6 servings.

Ingredients
• 3 cups cooked rice
• 1 (16-ounce) package frozen uncooked (26/30 count) shrimp, peeled and deveined, defrosted and drained
• 1 (14-ounce) can artichoke hearts, cut into quarters
• 1 (6-ounce) package Canadian bacon, diced
• 1 (16-ounce) jar Alfredo pasta sauce
• Vegetable cooking spray

Directions
Preheat oven to 375 degrees.

Combine rice, shrimp, artichokes, Canadian bacon and pasta sauce in a large bowl.

Pour mixture into a 9-inch deep-dish pie plate coated with cooking spray.

Cover with aluminum foil and bake in preheated oven 30 minutes.

Uncover and bake an additional 5 minutes.

Nutrition Facts
Amount Per Serving
Calories 272
Total Fat 5g
Cholesterol 135mg
Sodium 581mg
Total Carbohydrate 29g
Dietary Fiber 1g
Protein 25g

USA Rice Federation (www.usarice.com)