SOUFFLES - MINI HAM AND MUSHROOM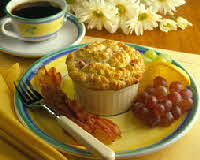 Serves 6
Ingredients
· 6 TB butter or margarine
· 1 cup sliced fresh mushrooms
· 6 TB all-purpose flour
· 1/4 teaspoon salt
· 1/8 teaspoon pepper
· 1½ cups milk
· 1 cup shredded Cheddar cheese (4 ounces)
· 1 cup diced fully-cooked ham
· 6 eggs, separated
· 3/4 teaspoon cream of tartar

Cooking Directions
In a medium saucepan melt butter. Add mushrooms and saute till tender. Remove mushrooms, reserving drippings in pan. Stir flour, salt and pepper into drippings till smooth. Gradually stir in milk; cook over medium-high heat till thickened and bubbly, stirring constantly. Remove from heat; add cheese, stirring till melted. Stir in mushrooms and ham.

Beat egg whites and cream of tartar at high speed of electric mixer until stiff peaks form. Using clean beaters, beat egg yolks till thickened and lemon-colored, about 5 minutes. Fold ham mixture into yolks. Pour the yolk mixture over beaten egg whites; fold gently. Spoon mixture into 6 ungreased 1½-cup souffle dishes. Bake in a 300 degree oven for 45-50 minutes or till a knife inserted near center comes out clean. Serve immediately.

TO MAKE ONE LARGE SOUFFLE: Spoon mixture into an ungreased 2-quart souffle dish. Bake in a 300 degree F oven for 50-60 minutes.

Serving Suggestions
These mini souffles are a nice addition to a brunch buffet or as a light summer lunch with a salad.

Nutrition Facts
Calories 352 calories; Protein 19 grams; Fat 26 grams; Sodium 747 milligrams; Cholesterol 281 milligrams; Saturated Fat 14 grams; Carbohydrates 11 grams; Fiber 0 grams

Recipe and photo courtesy of National Pork Board.
For more information about The Other White Meat, visit TheOtherWhiteMeat.com