SUNDRIED TOMATO TORTE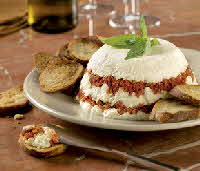 Makes 18 appetizer servings
Ingredients
• 1 (6-ounce) container Cabot Greek Style Yogurt
• 8 ounces feta cheese, crumbled
• 2 garlic cloves
• 2 (7-ounce) jars sun-dried tomatoes in oil, well drained
• 1/3 cup toasted pine nuts
• Basil leaves (optional)
• Toasted baguette slices or crackers

Directions
1. Beat yogurt and cheese with electric mixer until well blended; set aside.

2. In food processor, pulse garlic until coarsely chopped; add tomatoes and pine nuts and pulse until mixture is finely chopped.

3. Line small 3-cup bowl with plastic wrap. Spread one third of cheese mixture in bottom of bowl; top with half of tomato mixture. Add another third of cheese mixture followed by remaining tomato mixture. Finish with final layer of cheese.

4. Cover and chill for at least four hours. To serve, invert bowl onto serving plate; remove bowl and plastic wrap. Garnish top of torte with basil leaves, if desired. Serve with toasted baguette slices or crackers.

Nutrition Analysis
Calories 103 , Total Fat 8g , Saturated Fat 3g , Sodium 196mg , Carbohydrates 6g , Dietary Fiber 1g , Protein 4g , Calcium 90mg

Recipe & photo courtesy of Cabot Creamery Cooperative
www.cabotcheese.com