PUMPKIN MOUSSE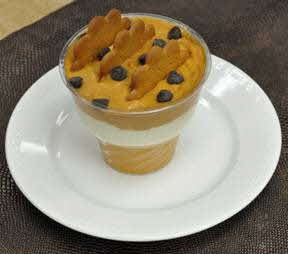 INGREDIENTS
• 15 oz. Pumpkin Puree (Libby's)
• 1 oz. sugar free, fat free vanilla
• 1 Cup whole milk
• 1 teaspoon cinnamon powder
• 1 teaspoon of ginger
• 2 cups of heavy cream (for whipped cream)
• 2 teaspoons confectionary sugar
• 1 Cup crumbled ginger cookie

DIRECTIONS
1. In a mixer bowl whip the heavy cream with the confectionary sugar; start at a slow speed then increase speed to make the mix firmer, but do not mix for more than 5-6 minutes.

2. Refrigerate the whip cream for about two hours.

3. In another bowl add all the other ingredients and mix at medium speed for about five minutes.

4. Chose a medium high 12 oz. clear glass and layer in the pumpkin mousse, add the crumbled ginger cookie, add a layer of whip cream and add a final layer of the mousse.

5. Add cookie on top to decorate.

* Recipe courtesy of Maria Zoitas, creator of "Maria's Homemade" line of prepared food sold exclusively at Westside Market NYC www.wmarketnyc.com/