MARIA'S CARAMEL POPCORN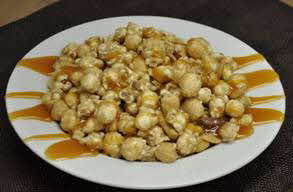 INGREDIENTS
• 10 Cups popped popcorn
• ¾ Cups packed brown sugar
• 1/3 cup butter
• ¼ Cup light colored corn syrup
• ¼ Cup Teaspoon baking soda
• ¼ cup teaspoon vanilla extract

DIRECTIONS
• Preheat oven at 300°F.

• Put popcorn into a 12''x 8''x 1'' roasting pan to keep popcorn warm while the caramel sauce is being made.

• In a medium saucepan, combine the brown sugar, butter and corn syrup – creating the caramel sauce.

• Cook and stir at medium heat until the mixture comes to a boil; let it boil for five minutes.

• Remove sauce pan from heat, stir in baking soda and vanilla.

• Pour caramel sauce over popcorn and stir gently to coat them.

• Bake for about 15 minutes and then set aside to cool.

* Recipe courtesy of Maria Zoitas, creator of Maria's Homemade line of prepared food sold exclusively at Westside Market NYC