CARAMEL CORN & CRAISINS SNACK MIX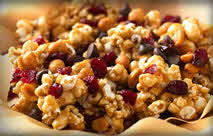 Makes 11 1-cup servings.

INGREDIENTS:
• 2 quarts popped popcorn, unpopped kernels removed
• 3/4 cups granulated sugar
• 1/2 cup firmly packed brown sugar
• 1/3 cup light corn syrup
• 1/3 cup water
• 3 tablespoons butter
• 1/2 teaspoon salt
• 1/2 teaspoon baking soda
• 1/2 teaspoon vanilla
• 1 6-ounce Ocean Spray Craisins® Original Sweetened Dried Cranberries
• 1 cup semisweet chocolate chunks or chips
• 1 cup honey roasted peanuts

DIRECTIONS:
Place popped corn in large bowl; set aside.

Combine granulated sugar, brown sugar, corn syrup and water in medium saucepan.

Bring to a boil over medium heat, stirring occasionally.
Brush sides of pan with pastry brush dipped in water to remove any sugar crystals.

Boil until mixture reaches 300° F (hard crack stage), about 6 to 8 minutes.

Remove from heat. Carefully stir in butter, salt, baking soda and vanilla.

Pour syrup over popcorn; toss to coat. Spread on waxed paper to cool.

Break up into chunks. Cool completely.

Combine cooled caramel corn with remaining ingredients. Mix gently.
CAUTION:
Caramel is very hot and can cause severe burns. Use caution when handling.