KALAMATA STUFFED CHICKEN WITH ROASTED PEPPER CREAM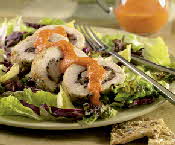 Makes 6 servings
Ingredients
• 6 skinless boneless chicken breast halves
• 1/2 teaspoon salt
• 1/2 teaspoon freshly ground black pepper
• 1/2 cup grated Cabot Sharp Cheddar
• 1/2 cup finely chopped pitted kalamata olives
• 1/2 cup Italian-seasoned dry breadcrumbs
• Cooking spray
• 1 (7 ounce) jar roasted red bell peppers, drained and pated dry
• 1/2 cup Cabot Greek Style Yogurt
• 1/4 teaspoon salt
• Mixed salad greens

Directions
1. Preheat oven to 350ºF.

2. Place chicken between two sheets plastic wrap; pound with meat mallet or heavy pan to flatten. Uncover and sprinkle evenly with salt and pepper.

3. Sprinkle cheese and olives evenly onto center of each chicken breast; roll up, jellyroll-style and secure with wooden toothpicks. Dredge chicken rolls in breadcrumbs.

4. Place rolls seam-side-down on baking sheet coated with cooking spray; lightly coat rolls with cooking spray. Bake for 25-30 minutes or until chicken is cooked all the way to center.

5. Meanwhile, pulse red peppers in food processor until pureed; add yogurt and salt, pulsing just until smooth. Refrigerate until ready to serve.

6. Remove chicken from oven and remove toothpicks. Let cool slightly. Slice breasts crosswise into 1-inch thick slices; arrange over salad greens and serve with red bell pepper sauce.

Nutrition Analysis
Calories 273 , Total Fat 15g , Saturated Fat 4g , Sodium 1176mg , Carbohydrates 10g , Dietary Fiber 1g , Protein 23g , Calcium 60mg

Recipe & photo courtesy of Cabot Creamery Cooperative
www.cabotcheese.com