OCTOBER 11
Today in Food History
• National Sausage Pizza Day
(Pizza Trivia -- Pizza Recipes --- Pizza Quotes)
• National Take Your Parents to Lunch Day (Oct 11, 2023 - during National School Lunch Week - since 2011)
[School Nutrition Assoc.]
• Feast of St. Gummarus, patron of cowherds.
• National School Lunch Week (Oct 9-13, 2023)
[School Nutrition Association]
• UK: [British Egg Week] (Oct 9-15, 2023)
(Egg Trivia & Facts --- Egg Tips --- Egg Quotes)
• UK: Seed Gathering Season (Sept 23-Oct 23, 2023
[The Tree Council] Gather seeds, fruits and nuts which can be nurtured to grow the trees of the future.

On this day in:
1811 The first steam-powered ferryboat began operation between New York City and Hoboken, New Jersey.
1844 Henry John Heinz was born. Founder of the H.J. Heinz company and creator of its slogan '57 varieties.'
(Heinz Trivia & Facts)
1887 The first accurate and practical adding machine patented by Dorr Eugene Felt. (The Comptometer).
1887 Canada: The 1st convention of the North West Farmers' Association opens in Regina, Saskatchewan.
1911 Nathaniel Wyeth was born. Nathaniel Wyeth, American chemist and inventor, received patent for PET (polyethylene terephthalate) beverage bottles. This was the first safe plastic strong enough to hold carbonated beverages.
1919 The first airline meals are served by Handley Page Transport. Passengers are offered a pre-packed lunch-box, costing 3 shillings, on their London to Paris service. [Royal Air Force Museum]
1952 'Jambalaya (On The Bayou)' by Hank Williams was number one on the country music charts.
1958 'The Old Man and the Sea' opened in U.S. theatres. Based on Earnest Hemingway's 1952 novel, it is the story of an aging fisherman and starred Spencer Tracy.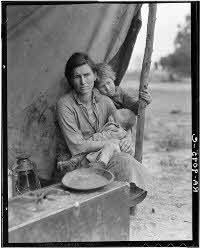 1965 Dorothea Lange died (born May 26, 1895). Documentary photographer, best known for her Depression-era work for the Farm Security Administration (FSA). Her photographs humanized the tragic consequences of the Great Depression and profoundly influenced the development of documentary photography. (Photo: Dorothea Lange's "Migrant Mother" 1936 Nipomo, California. FSA Collection)
1983 The last hand cranked telephones in the United States were taken out of service as the 440 telephone customers in Bryant Pond, Maine were switched over to direct dial service.
1987 A major sonar exploration of Loch Ness in Scotland ends. It failed to find 'Nessie' the world famous Loch Ness monster.
1995 Americans Mario Molina and Sherwood Rowland, and Dutch scientist Paul Crutzen won the Nobel Prize in chemistry for their work warning that CFCs (Chlorofluorocarbons) used in aerosol sprays etc., are eating away Earth's ozone layer.
1996 President Clinton signed Economic Espionage Act of 1996 into law which criminalized misappropriation of trade secrets.