OCTOBER 12
Today in Food History
• National Gumbo Day (Gumbo Origin & History)
• National Farmers Day (Old Farmers Day)
(Farms & Farmers Trivia & Facts --- Farm Quotes)
• [National Pulled Pork Day]
(Pork Trivia --- Pork Recipes --- Pork Quotes)
• St. Edwin, patron of tramps and parents of large families.
• National School Lunch Week (Oct 9-13, 2023)
[School Nutrition Association]
• UK: [British Egg Week] (Oct 9-15, 2023)
(Egg Trivia & Facts --- Egg Tips --- Egg Quotes)
• UK: Seed Gathering Season (Sept 23-Oct 23, 2023
[The Tree Council] Gather seeds, fruits and nuts which can be nurtured to grow the trees of the future.

On this day in:
1492 Columbus Day. Christopher Columbus arrived at the Bahamas. (Celebrated in U.S. on 2nd Mon in Oct)
1609 The English nursery rhyme 'Three Blind Mice' was first published in the folk music compilation 'Deuteromelia' by Thomas Ravenscroft.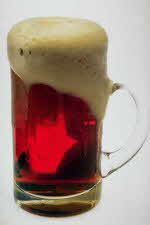 1810 The first Oktoberfest is celebrated in Munich. Oktoberfest originated as a horse race to celebrate the marriage of the crown prince of Bavaria (later King Louis I) to Princess Therese von Sachsen-Hildburghausen. Today it is a 2 week festival ending on the 1st Sunday in October, during which more than 1 million gallons of beer are consumed at the Munich festival. (Beer Trivia --- Beer Quotes)
1823 Charles Macintosh, of Scotland, began selling 'Macintosh' raincoats (Macs) composed of two sheets of fabric with rubber latex sandwiched between them.
1849 In Great Britain, Charles Rowley patented a safety pin. (However, safety pins existed prior to his patent).
1914 Margaret E. Knight died. American inventor, she invented an improved paper bag machine to make bags with flat bottoms.
1920 Construction of the Holland Tunnel began. The first Hudson River automobile tunnel, linking New York City and Jersey City, New Jersey. It opened to traffic on Nov 13, 1927.
1923 Jean Nidetch was born. founder of 'Weight Watchers', offering dieting products and services. It began as a discussion group for weight loss.
(Healthy Diets & Dieting Articles)
1950 Takeshi Kaga was born. A Japanese actor, he is best known as the host of the very successful TV show, 'Iron Chef.' It has been shown around the world dubbed or subtitled. There is an American version of the show on the Food Network, hosted by Kaga's nephew, Mark Dacascos.
1963 'Sugar Shack' by Jimmy Gilmer & The Fireballs, hits number 1 on the charts.
1965 Paul Hermann Muller died. A Swiss chemist who discovered that DDT was a potent insecticide. It was the most widely used insecticide for more than 20 years, and helped to increase food production around the world. Due mainly to its accumulation in animals that eat insects, and its toxic effects on them and those further up the food chain, it has been banned in the U.S. since 1972. However its residue is still found in some foods grown in the U.S. in 2002!