NOVEMBER 16 - Today in Food History
• National Fast Food Day
(Fast Food Trivia --- Fast Food Quotes)
• St. Gertrude the Great, patron of travelers.
• National Hunger & Homeless Awareness Week (Nov 12- 20, 2022 - week before Thanksgiving) [National Coalition for the Homeless] A time to share our compassion with our neighbors who are experiencing homelessness.
• National Split Pea Soup Week: Celebrated in the U.S. since 1969 (Nov 13-19, 2022 - 2nd week in Nov)
(Pea Soup Recipes --- Pea Quotes)

On this day in: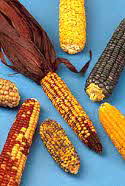 1620 The first corn (maize) was supposedly discovered (by European settlers) by some Pilgrims led by Myles Standish, while exploring the area near Provincetown, Massachusetts. They named the spot Corn Hill. (Corn Trivia -- Corn Recipes -- Corn Cooking Tips --- Corn Quotes)
1796 English inventor Marc Isambard Brunel received a patent for 'Ruling Books and Paper'
1801 Alexander Hamilton founded the New-York Evening Post newspaper, the oldest continuously published Daily newspaper in the U.S.
1841 Napoleon E. Guerin, of New York City, received a patent for a 'Life Preserver' filled rasped or grated cork.
1849 The first poultry show in the U.S. was held on November 15-16 in Boston, Massachusetts. 1,423 birds were exhibited by 219 exhibitors.
1867 Leon Daudet was born. French journalist and novelist, well known gastronome of his time.
1889 The Oahu Railway began operating on Oahu, Hawaii's 3rd largest island. The railroad made it possible to move agricultural products from inland to port, stimulating the local economy and providing a valuable transportation route for decades.
(Hawaii Food Trivia & Facts -- Hawaii Food Festivals)
1907 Oklahoma became the 46th state.
(Oklahoma Food Trivia -- Oklahoma Food Festivals)
1913 The first volume of Marcel Proust's 'Remembrance of Things Past' was published. On January 1, 1909, he ate a piece of tea-soaked toast whose taste caused a flood of childhood memories. In his 7 volume allegorical novel the character Swann has a similar experience when he bites into a lemon cookie (a madelaine) which brings on a similar flood of memories. This is one of the most widely quoted allusions in literature.
1916 Charles Dawson ('Daws') Butler was born (died May 18, 1988). Voice actor. He was the original voice of Cap'n Crunch, mascot of the Quaker Oats cereal of the same name. Also the voice of Huckleberry Hound, Yogi Bear and dozens of other cartoon characters.
1920 Pitney Bowes introduced the first postage meter for metered mail in Stamford, Connecticut.
1934 Carl Paul Gottfried Linde died. (born June 11, 1842). A German engineer who invented mechanical refrigeration. He developed it so beer could be brewed year round. (Brewing requires low temperatures.)
(Beer and Brewing Articles --- Beer Quotes)
1958 Samuel Hopkins Adams died (born Jan 26, 1871). American author and journalist. His series of articles in 1905 about patent medicines ('The Great American Fraud') for Collier's Weekly, led to the passage of the Pure Food and Drug Act of 1906.
1960 Fishermen in British Columbia, Canada end a 12-month labor dispute that shut down province's herring fishery. (Herring Trivia & Facts --- Herring Quotes)
1994 The United Nations Convention on the Law of the Sea took effect today. "Agreement for the Implementation of the Provisions of the Convention relating to the Conservation and Management of Straddling Fish Stocks and Highly Migratory Fish Stocks"