HAM GLAZED with RUM and MUSTARD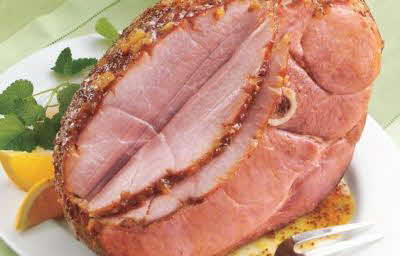 INGREDIENTS:
• 10 -12 lbs bone in ham
• 1/2 cup packed brown sugar
• 1/2 cup dark rum
• 1/4 cup Dijon mustard
• 1/4 cup maple syrup

DIRECTIONS:
1. Lightly score the ham, criss-cross, and place in a roasting pan.

2. Mix the brown sugar, rum, mustard and syrup. Spoon sauce over the ham and bake in 425°F oven for 30 minutes. Lower temperature to 375°F and continue to roast for another hour.
Baste frequently. The top should be well browned and crispy in texture.

3. Let sit for 30 minutes covered with foil before carving.

Recipe and photo courtesy of Caribbean Shopping Channel