BÄRENJÄGER PLANKED SALMON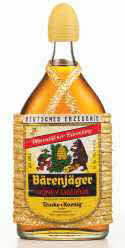 The natural honey found in Bärenjäger Honey Liqueur makes a great addition to the marinade.
Serves 8

Ingredients
• 1 (15 x 6 ½ x 3/8 –inch) Alder grilling plank soaked in water for 24 hours.
• ½ cup Bärenjäger Honey LIqueur
• ½ cup rice vinegar
• ½ cup low- sodium soy sauce
• ¼ cup Worcestershire sauce
• ½ cup Apricot preserve
• 1 teaspoon ground ginger
• Fresh ground pepper
• 2 garlic gloves, minced
• 3 pounds salmon fillet
• 1 tablespoon olive oil (plank)
• 3 fresh apricots cut in quarter
• 1 tablespoon Caraway seeds

Directions
1. To prepare the grill for indirect grilling, heat one side of the grill to high heat.

2. Combine Bärenjäger and the next seven ingredients in a large bowl and stir. Place the salmon fillet into a large plastic zipper bag and pour the mixture into the bag. Marinate in the refrigerator for 30 minutes.

3. Remove the fish from the marinade. Place the fish on the lightly oiled plank, top the apricots; sprinkle the Caraway seeds and grill 20 minutes or until fish flakes easily when tested with a fork.
Recipe courtesy of Sidney Frank Importing Co., Inc.