GLAZED HAM WITH DRIED CHERRY CARAMELIZED ONIONS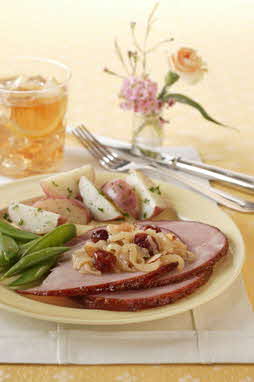 Serves 10.
Ingredients
• 3 pound cooked boneless ham
• 2 tablespoons honey
• 1 tablespoon stone-ground mustard
• 1 teaspoon cider vinegar
• 5 medium onions, halved lengthwise and thinly sliced (about 5 cups)
• 3 tablespoons butter
• 1/2 cup dried tart cherries
• 1/3 cup cider vinegar
• 2 tablespoons honey
• 1/2 teaspoon ground cardamom
• 1/4 cup almonds, sliced or slivered and toasted

Cooking Directions
Heat oven to 325 degrees F. Place ham on rack in shallow baking pan. Roast 45 minutes to 1 hour or until a meat thermometer registers 140 degrees F. (about 15 to 18 minutes per pound).

Meanwhile, for glaze, in a small bowl combine 2 tablespoons honey, 1 teaspoon cider vinegar and 1 tablespoon mustard.
Brush ham with glaze during the last 5 minutes of baking.

To caramelize onions, cook onions in a covered Dutch oven in hot butter over medium heat for 12 to 15 minutes or until onions are just tender, stirring occasionally.
Stir in 1/2 cup dried cherries, 1/3 cup cider vinegar, 2 tablespoons honey and 1/2 teaspoon cardamom.
Simmer, uncovered, for 5 minutes.
Stir in toasted almonds.

Slice ham; serve with onion mixture.
Serving Suggestions
Perfect for a late lunch or dinner. This cooked, boneless ham is glazed with a mixture of honey, mustard and cider vinegar. Serve with sugar snap peas and roasted new potatoes.

Nutrition Facts
Calories 277 calories; Protein 26 grams; Fat 10 grams; Sodium 1337 milligrams; Cholesterol 43 milligrams; Saturated Fat 4 grams; Carbohydrates 20 grams; Fiber 2 grams

Recipe and photo courtesy of National Pork Board. For more information about The Other White Meat, visit TheOtherWhiteMeat.com