GRILLED HAM WITH LEMON-ORANGE GLAZE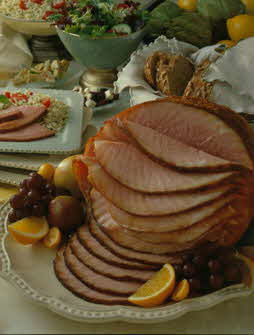 Serves 8, with leftovers.
Ingredients
• 6-7 pound bone-in smoked ham
• 2 tablespoons brown sugar
• 1 tablespoon ground coriander
• 1 tablespoon paprika
• 1 teaspoon cumin
• 1/2 teaspoon cinnamon
• 1/4 teaspoon cloves
• 1/4 cup lemon marmalade
• 2 tablespoon orange juice

Cooking Directions
Prepare gas or charcoal grill to medium-hot (375-425 degrees F.) for indirect cooking. Place drop pan in center, not over heat source (for gas grill, turn off center burner; for charcoal grill, bank coals on either side).

Score top and sides of ham with a knife in a crisscross pattern; mix all remaining ingredients except the glaze ingredients and rub into surface of ham. Place ham, score side up, in center of grill over drop pan.

Cover and grill for 1 - 1½ hours (adding 6-8 briquettes to charcoal grill if necessary to maintain heat), until internal temperature of ham (measured with a meat thermometer) reads 140 degrees F. (about 15-18 minutes per pound.)

Combine marmalade and orange juice in a small bowl; brush over ham and grill 5 minutes more.

Remove ham from grill and let stand 15 minutes.
Serving Suggestions
Rubbed with a sweet and savory blend of seasonings and topped with a lemon-orange glaze, this zestful recipe is the perfect centerpiece for any Easter celebration. The grill does the work while you enjoy the fresh air in the company of friends and family.

Nutrition Facts
Calories 380 calories; Protein 61 grams; Fat 14 grams; Sodium 4480 milligrams; Cholesterol 175 milligrams; Saturated Fat 5 grams; Carbohydrates 11 grams; Fiber 0 grams

Recipe and photo courtesy of National Pork Board. For more information about The Other White Meat, visit TheOtherWhiteMeat.com