HASH BROWN VEGGIE MELT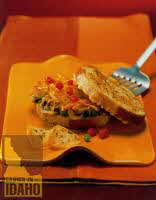 "Who would expect hash browns as a sandwich ingredient? They add a great, surprising crunchiness, and their flavor really complements the vegetables nicely. It's a hit for us!"
Donette Beattie
Yield: 1 serving

INGREDIENTS:
• vegetable oil
• 1 cup shredded, cooked Idaho potatoes
• salt or seasoning salt
• freshly ground black pepper
• 2 slices potato-chive bread or hearty Italian bread
• 1 tablespoon Parmesan-garlic spread (made with margarine or butter, finely minced garlic and shredded cheese)
• 1/4 cup shredded cheese blend (any combination of Colby, Mozzarella, Monterey Jack or Provolone)
• 1/4 cup diced green bell pepper
• 1/4 cup sliced mushrooms
• 1/4 cup diced tomato

DIRECTIONS:
1. Lightly oil a griddle top cooking surface. Add the potatoes and cook for 4 to 5 minutes until golden brown. Turn the potatoes over, season with the salt or seasoning salt and pepper, and continue cooking for another minute.

2. Using the sides of the bread that will face outward, spread both slices with the parmesan-garlic spread. Grill on the cooking surface until golden brown. Top one of the slices of bread with the shredded cheese, allowing it to melt. Cover if necessary.

3. Place the green pepper, mushrooms and tomato on the lightly oiled griddle top and sauté for a few minutes.

4. To assemble, place the browned potatoes on the slice of bread without the cheese, add the cooked vegetables then place the other slice of bread, melted cheese face down, on top of the sandwich. Remove from the griddle, cut in half diagonally and serve immediately.

*Note: This recipe may be scaled up in quantity accordingly.

Donette Beattie, Vice President, Purchasing and Product Development Country Kitchen International Madison, Wis.
Idaho Potato Commission: www.idahopotato.com