ARIZONA CARNITAS WITH GREEN CHILES
Serves 8 to 10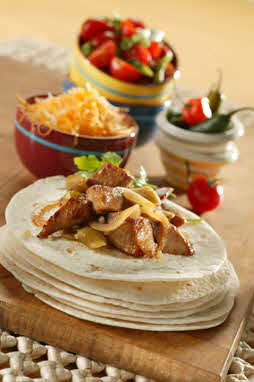 • 2 1/2 pounds boneless pork shoulder, cut into bite-size pieces*
• 3 tablespoons olive oil
• 1/2 teaspoon salt
• 1/8 teaspoon ground black pepper
• 1 large yellow onion, cut into thin slivers
• 1 4-oz. can diced green chiles, undrained
• 2 cloves garlic, minced
• 1/2 cup chicken broth
• Flour tortillas OR corn tortillas
• Shredded Cheddar cheese
• Chopped tomato
• Sour cream

Cooking Directions
Heat oven to 350 degrees F.

Heat 2 tablespoons of the oil in ovenproof heavy large covered pot over high heat. Add half of the pork cubes; sprinkle with half of the salt and half of the black pepper. Cook pork until starting to brown, stirring often. Remove pork.
Repeat with remaining pork cubes, salt and black pepper, adding more oil if necessary.

Drain drippings from pot.

Heat remaining 1 tablespoon oil in the same pot over medium heat. Cook onion in hot oil until tender.

Stir in undrained chiles and garlic; cook for 2 minutes.

Return pork to pot. Add chicken broth.

Cover and bake for 1 hour.

Serve pork in tortillas topped with Cheddar cheese, tomato and sour cream if desired.

* This recipe is perfect for pork shoulder, but any economical cut will work well.

Serving Suggestions
Spice up meal times with this traditional and popular Southwestern dish. Shoulder meat is best cooked for longer period of time to make tender. Set the table so that everyone can create their own tortilla-filled meal.

Nutrition Facts
Calories 598 calories; Protein 41 grams; Fat 33 grams; Sodium 741 milligrams; Cholesterol 120 milligrams; Saturated Fat 15 grams; Carbohydrates 32 grams; Fiber 2 grams
Recipe and photo courtesy of National Pork Board.
For more information about The Other White Meat, visit TheOtherWhiteMeat.com