CALIFORNIA PORK SANDWICHES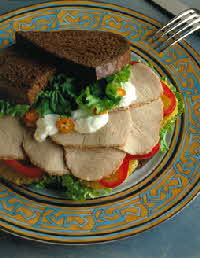 Serves 5
• 10 slices sourdough bread
• 4 tablespoons butter, softened
• 10 large lettuce leaves
• 2 large oranges, peeled and thinly sliced
• 1 sweet red bell pepper, seeded and cut into strips
• 20 thin slices roast pork, about 1 pound
• 2/3 cup sour cream
• 2 teaspoons grated onion
• 1/8 teaspoon garlic salt
• 3-4 drops hot pepper sauce
• 1 ripe avocado, peeled and sliced

Directions
Spread bread slices with butter; top with 5 lettuce leaves.

Arrange orange slices on 5 lettuce-topped bread slices.

Top orange with red pepper, then roast pork. In small bowl stir together sour cream, onion, garlic salt and hot pepper sauce.

Spoon about 2 tablespoons sour cream sauce over pork layer on each sandwich; top with remaining lettuce leaves and buttered bread slices.

Garnish each plate with avocado slices.
Serving Suggestions
This cool sandwich gives a great excuse for making a pork roast the night before. Thinly sliced pork is layered with sliced orange and red pepper and napped with a seasoned sour cream sauce. Slices of perfectly ripe avocado can be served alongside or on the sandwich.

Nutrition Facts
Calories 460 calories; Protein 31 grams; Fat 24 grams; Sodium 1590 milligrams; Cholesterol 85 milligrams; Saturated Fat 11 grams; Carbohydrates 33 grams;
Recipe and photo courtesy of National Pork Board.
For more information about The Other White Meat, visit TheOtherWhiteMeat.com