FLORENTINE PORK IN FRENCH BREAD BOATS
Serves 6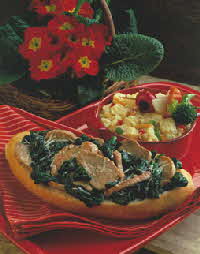 • 2 pork tenderloins, about 12 ounces each
• 1/3 cup reduced-calorie Italian dressing
• 1 teaspoon vegetable oil
• 2 medium tomatoes, seeded and diced
• 1 bag (10 ounces) fresh spinach, washed and trimmed
• 3 6-inch pieces French bread, split lengthwise in half
• 4 teaspoons grated Parmesan cheese

Cooking Directions
Cut pork into slices 1/4-inch thick.

Place pork in plastic bag; add dressing, turning to coat. Tie bag securely and marinate at least 15 minutes (no longer than 1 1/2 hours). Remove pork from marinade.

Brown pork in oil in nonstick skillet; pour off drippings. Add tomatoes and spinach. Cover tightly and cook over medium-high heat 2-3 minutes or until spinach is wilted. Pour off liquid.

Meanwhile remove soft centers from bread to form "boats". Spoon 1 cup pork mixture into each boat. Sprinkle each with equal amount of cheese.

Serving Suggestions
A light dinner or weekend lunch. Serve with pasta salad and fresh fruit.
Nutrition Facts
Calories 325 calories; Protein 31 grams; Fat 9 grams; Sodium 420 milligrams; Cholesterol 76 milligrams; Saturated Fat 3 grams; Carbohydrates 29 grams; Fiber 3 grams
Recipe and photo courtesy of National Pork Board.
For more information about The Other White Meat, visit TheOtherWhiteMeat.com