See also: Black Walnuts; English Walnuts;
Walnut Kitchen Tips
WALNUT Facts & Trivia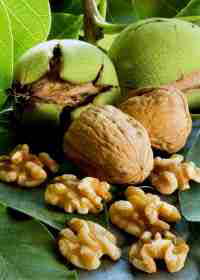 It would take 1,051,818,240 walnuts laid end to end to circle the equator.

There are 72 people in the U.S. listed on whitepages.com with the last name 'Walnut'
(Mark Morton, 'Gastronomica', Fall 2010)
Walnuts are the oldest tree food known to man, dating back to 7000 B.C. The Romans called walnuts Juglans regia, 'Jupiter's royal acorn.' Early history indicates that English walnuts came from ancient Persia, where they were reserved for royalty. Thus, the walnut is often known as the 'Persian Walnut'. Walnuts were traded along the Silk Road route between Asia and the Middle East. English merchant marines transported the product for trade to ports around the world and they became known as 'English Walnuts.' England, in fact, never grew walnuts commercially.

English Walnuts are native to the Middle East and the Black Walnut is a native American species. Walnuts grown in California are English walnuts. Black walnuts are mainly used as rootstock for English walnuts. The walnut was first cultivated in California by the Franciscan Fathers in the late 1700s. The first commercial plantings in California, and modern walnut production, began in 1867. (California Walnut Commission)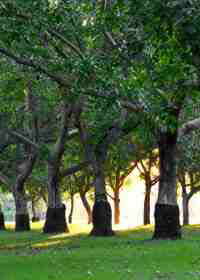 Consumers will purchase an estimated 2.7 million pounds of walnuts to enjoy with the 2008 Super Bowl; enough to bury the playing field in over 3 feet of walnuts!

The official Tree Nut of Missouri is the Nut of the Eastern Black Walnut Tree (Juglans nigra).

Shelled walnuts contain about 4% water content by weight.

Rich, crunchy walnuts are always delicious, whether sprinkled on top of a waffle at breakfast, added to brownies you've whipped up for an after-lunch treat, or tossed with a crisp green salad for dinner. Walnuts are a good source of omega-3 fatty acids, thought to reduce risk of cancer. They also provide protein, several essential vitamins and minerals, and antioxidants, yet are free of trans fats and cholesterol. Today, they're ranked as America's third most popular tree nut.

Please feel free to link to any pages of FoodReference.com from your website.
For permission to use any of this content please E-mail: [email protected]
All contents are copyright © 1990 - 2023 James T. Ehler and www.FoodReference.com unless otherwise noted.
All rights reserved. You may copy and use portions of this website for non-commercial, personal use only.
Any other use of these materials without prior written authorization is not very nice and violates the copyright.
Please take the time to request permission.


FOOD TRIVIA and FOOD FACTS
FoodReference.com (since 1999)
FOOD TRIVIA and FOOD FACTS SECTION