See also: Agriculture
ALFALFA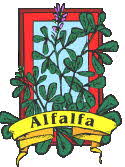 Alfalfa (Medicago sativa) is a legume in the Pea Family. It is also know as lucerne.
Alfalfa is supposedly the oldest know plant used for livestock feed, with records of its use as early as 1,000 BC in the Middle East.
Alfalfa is the primary HAY crop grown in the United States.


Alfalfa has a root system that can reach down more than 40 feet, and is very drought resistance. Alfalfa is one of the most nutritious fodder crops, and is also an excellent honey crop for bees. Alfalfa sprouts are used in salads, and the leaves may also be used raw or cooked as a vegetable.

Because of its rapid recovery and growth after cutting, it is possible to obtain as many as a dozen crops of hay in one season.
Alfalfa fixes nitrogen in the soil, making it also a valuable crop for improving soil nutrition.

Please feel free to link to any pages of FoodReference.com from your website.
For permission to use any of this content please E-mail: [email protected]
All contents are copyright © 1990 - 2023 James T. Ehler and www.FoodReference.com unless otherwise noted.
All rights reserved. You may copy and use portions of this website for non-commercial, personal use only.
Any other use of these materials without prior written authorization is not very nice and violates the copyright.
Please take the time to request permission.
FOOD TRIVIA and FOOD FACTS
CULINARY SCHOOLS
& COOKING CLASSES
From Amateur & Basic Cooking Classes to Professional Chef Training & Degrees
FoodReference.com (since 1999)
FOOD TRIVIA and FOOD FACTS SECTION