See also: Allspice Field Report: Jamaican Jerk
ALLSPICE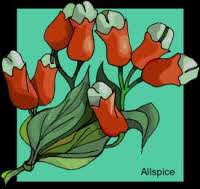 (Pimenta officinalis; Pimenta dioica)
Allspice is mainly grown in Jamaica and is the only spice whose production is confined to the New World. No one has been able to successfully cultivate it in other parts of the world.
Allspice is the dried berry of the allspice tree (Pimenta officinalis; Pimenta dioica), also known as the pimento tree, native to the West Indies and Central America. The name has nothing to do with the red sweet pepper known as 'pimento' which is used in stuffed olives, etc.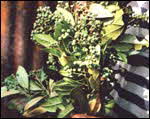 The name allspice comes from the fact that the flavor is suggestive of a combination of nutmeg, cinnamon and cloves. It is generally used in pickling, baking (apple pie), condiments (ketchup), chewing bum, ice cream, soft drinks, etc.

The fruit and leaf oil are also used in men's toiletries - any time you see the word 'spice' in the name, such as in 'Old Spice' you can be sure that the fragrance comes at least in part from allspice oil.

Pimento (Allspice) wood is used in Jamaica to cooked 'jerked' meats.
For centuries, the Mayan Indians used Allspice to embalm the bodies of important leaders. Allspice is also know as Pimiento (Spanish for pepper) because the berries resemble unripened peppercorns and was one of the spices Christopher Columbus discovered on the Caribbean Islands when he asked the native Indians if they harvested black pepper.

The allspice or pimento plant is native to Jamaica and is a major agricultural crop. The Spaniards named it Pimienta de Jamaica, but today it is widely known as Allspice, since its flavor resembles a combination of many spices (cloves, cinnamon and nutmeg). Pimento is widely used in the meat curing and in the confectionery & food processing industries.
Most Allspice is produced in Jamaica, but alternative sources include Guatemala, Honduras, and Mexico. Historically, Jamaican Allspice has been considered superior because of its higher oil content, better appearance and flavor. Jamaican Allspice has a clove-like aroma while the Honduran and Guatemalan varieties have a characteristic bay-rum flavor.

In the 19th century, Russian soldiers would put allspice in their boots to keep their feet warm. This also helped with foot odor, and pimento oil (allspice oil) is used today in the cosmetic industry, especially in men's products with the term spice in the name.
The Arawak Indians of the Caribbean used allspice to cure and preserve meats, and called it 'boucan'. Europeans who learned to cure meat with allspice were called 'boucaniers', hence the term 'buccaneers'.
FREE Magazines
and other Publications
An extensive selection of free magazines and other publications
FOOD TRIVIA and FOOD FACTS
Please feel free to link to any pages of FoodReference.com from your website.
For permission to use any of this content please E-mail: [email protected]
All contents are copyright © 1990 - 2023 James T. Ehler and www.FoodReference.com unless otherwise noted.
All rights reserved. You may copy and use portions of this website for non-commercial, personal use only.
Any other use of these materials without prior written authorization is not very nice and violates the copyright.
Please take the time to request permission.
CULINARY SCHOOLS
& COOKING CLASSES
From Amateur & Basic Cooking Classes to Professional Chef Training & Degrees
FoodReference.com (since 1999)
FOOD TRIVIA and FOOD FACTS SECTION