BOLD & SPICY STUFFED MUSHROOMS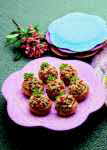 Tip: Prepare these mushrooms ahead of time. Bring as a gift to parties and just bake before serving.
Prep Time: 15 min.
Cook Time: 10 min.
Makes 4 servings

Ingredients
• 24 medium mushrooms, wiped clean (about 1 lb)
• 3 tbsp. olive oil
• 1/2 cup chopped red bell pepper
• 1/4 cup minced green onion
• 1 tbsp. minced garlic
• 1/4 cup minced parsley
• 3 tbsp. FRENCH'S Spicy Brown Mustard
• 1 to 2 tbsp. grated Parmesan cheese

Directions
1. CHOP mushroom stems. Reserve caps.

2. HEAT 2 tbsp. oil in large skillet. Cook chopped stems, bell pepper, onion and garlic until tender. Stir in parsley and mustard.

3. BRUSH mushroom caps with 1 tbsp. oil. Spoon filling into mushroom caps. Sprinkle with cheese.

4. BAKE mushrooms on pan at 425°F for 10 min. until tender and heated through.

FRENCH'S® Foods, a division of Reckitt Benckiser Inc., the maker of FRENCH'S® mustards, is a leading manufacturer, marketer, and distributor of food and household products. Some other well known, trusted household names in the Reckitt Benckiser Inc. family of food products include FRANK'S® REDHOT® Cayenne Pepper Sauce, FRENCH'S® French Fried Onions, CATTLEMEN'S® Barbecue Sauce, FRENCH'S® Worcestershire sauce and FRENCH'S® Potato Stix.