BRAISED SHORT RIBS WITH GARLICKY SHRIMP & IDAHO POTATO CHARLOTTE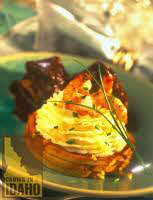 Frozen French fries can be substituted for the fresh potato fries in this recipe. Chef Burke suggests toasting them in hot oil prior to lining the ring mold.
Yield: 4 servings
POTATO CHARLOTTE
• 4, #100 ct. (2 lbs.) Idaho Potatoes, peeled, quartered
• 2 oz. butter, softened
• 1/4 cup extra virgin olive oil
• 1/2 cup warm milk
• 1 tsp. Kosher salt
• 1/2 tsp. freshly ground white pepper
• 1 Tbsp. roast garlic puree
• French fries, fresh as needed

DIRECTIONS:
1. Cook potatoes in salted, boiling water until tender, about 25 minutes. Drain and mash; add butter, oil, milk, and seasonings. Puree gradually until smooth.

2. For each Charlotte, line 4½" ring mold with French fries, packing tightly. Secure with 3½" ring mold pressed inside. Deep-fry at 350°F until golden and crisp, about 2 minutes. Drain; remove rings and unmold onto plate. Fill with whipped potatoes.

RIBS AND SHRIMP
• 8 pieces, 2½ in. long short ribs of beef
• Salt, Pepper to taste
• Vegetable oil and Olive oil both as needed
• 8 oz. onion, chopped
• 4 cloves garlic, chopped
• 1 stalk celery, chopped
• 4 oz. carrot, chopped
• 1 bay leaf
• 1 large branch of thyme
• 1 Tbsp. peppercorns
• 2 cups dry red wine
• 1 qt. dark chicken or veal stock
• 2 Tbsp. both butter and Mustard
• Olive oil as needed
• 12 Shrimp, large, peeled
• 6 large Garlic cloves, chopped
• 1/2 cup Chives, chopped

DIRECTIONS:
Season short ribs with salt and pepper. Heat vegetable oil in roasting pan; brown meat. Drain fat. Add vegetables and herbs; brown lightly. Add wine and stock; bring to boil.

Cover and braise in 375°F oven, 1½ hours.
Skim fat. Remove meat. Strain vegetables and discard. Reduce liquid to 1 pint.
Add butter and mustard. Pour sauce over meat and reserve.
Heat olive oil in skillet. Add shrimp; sauté 2 minutes. Add garlic and chives; cook 1 minute longer.

Assemble by placing a potato Charlotte on each plate. Place 3 shrimp on top with 2 short ribs and sauce.

David Burke, Chef-Owner, davidburke & donatella, New York City
Idaho Potato Commission: www.idahopotato.com