Beef Satay with Peanut Dipping Sauce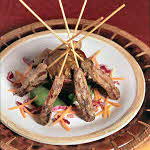 Chef George Powell's Spicy Satay for an Asian Appetizer
Servings: 12 appetizer portions
Prep Time: 20 minutes
Cook Time: 8-12 minutes

Ingredients:
• 1 beef tri-tip roast (2½-3 lbs.), cut against the grain in 1/4 inch slices

Marinade:
• 1/4 cup soy sauce
• 1/4 cup rice wine vinegar
• 1/4 cup freshly grated ginger
• 3 cloves garlic
• 1/2 cup chopped cilantro
• 1 Tbsp. salt
• 1 tsp. freshly ground black pepper
• 1 Tbsp. Dijon mustard
• 1 cup peanut oil
• Peanut Dipping Sauce

Instructions:
Thread sliced roast onto skewers.

Place all marinade ingredients, except peanut oil, in bowl of food processor. Process until smooth.

Through food chute, slowly drizzle peanut oil in a slow steady steam, while processing, until all oil is incorporated.

Place skewers of beef into marinade and refrigerate 2-4 hours.

Remove beef from marinade and discard marinade. Grill over medium-hot coals to desired doneness, turning once.

Serve with Peanut Dipping Sauce.

Suggestions:
Flat iron may be used in place of the tri-tip.:

Tips:
If using wooden skewers, soak in water 10-30 minutes before adding beef
to prevent burning.

Recipe courtesy of the Texas Beef Council