WINE AND YOUR HEALTH
Research has proven that drinking a modest amount of wine can lower your bad cholesterol, increase your good cholesterol, lower your blood pressure, increase your bone density, reduce your chances of having kidney stones and increase your memory. And that's just to name a few of the advantages being touted by wine and in general, alcohol consumption. However, at the same time, we are hearing about the negative effects of these beverages like cirrhosis and cancer of the liver, not to mention the disapproving social aspects.

During the fermentation process, the sugar in the juice becomes ethanol or alcohol. Therefore, technically wine is water, alcohol and organic chemicals, that resulted from the fermentation. Some of these chemicals belong to the phenol family. They are called flavonoids. These particular chemicals are responsible for several characteristics of wine including the color. One in particular, is called resveratrol. It is unique to grapes and is said to be the wonder ingredient. Resveratrol is found in the grape skins and since red wine is fermented with its skins, more is found in red wine than white. Although there are small amounts found in white the larger concentration is in the reds.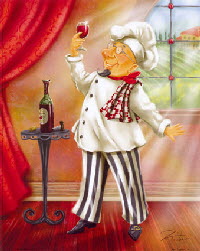 There are also some researchers who consider the alcohol itself to be a cleanser or disinfectant, killing the germs causing the health problems. However, don't be quick to buy any bottle of wine and expect your health to improve. Just as wine styles and tastes differ due to region of origin, grape variety and production methods, so do their phenol types and concentrations. A young bottle of wine has more resveratrol than an aged bottle and red more than white. So your best bet is a young bottle of red wine.

As well, the studies are quick to point out that the improvements were shown when the alcohol consumption was in moderation, which was mostly determined to be about 25 grams of ethanol per day. This amount comes out to approximately one or two drinks of 5 ounces of wine or beer or 1 ounces of liquor. The positive effects began to diminish or the negative effects of drinking outweighed the positive when more than this was consumed. Here's to your health!

Liana Bennett holds a Bachelors of Home Economics from the University of British Columbia and a Masters of Foodservice Management from Michigan State University. She has worked in several capacities in the both the hospitality and beverage alcohol industries. Currently she is spending her time writing and teaching classes. She now resides in Michigan with her husband, three children and their dog.
[email protected]