WINTER SQUASH GRATIN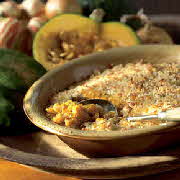 Makes 8 servings
Ingredients
• 1 1/2 cups grated Cabot Sharp Cheddar* (about 6 ounces)
• 1 1/2 cups fresh bread crumbs (about 3 slices firm white bread)
• 2 tablespoons Cabot Salted Butter
• 2 cups chopped onions
• 1 teaspoon sugar
• 1/2 teaspoon salt
• 1/2 teaspoon dried thyme leaves, crumbled
• 1/4 teaspoon ground black pepper
• 2 pounds dry-fleshed winter squash, such as Buttercup, Hubbard or Kabocha, peeled and seeded
• 3/4-1 cup chicken broth

Directions
1. Preheat oven to 375ºF. Combine cheese and bread crumbs in bowl and set aside.

2. In large skillet over medium heat, melt butter. Add onions and sugar. Stir often until onions are golden, about 10 minutes. Stir in salt, thyme and pepper, then transfer mixture to 1 1/2-quart baking dish.

3. Cut squash into smaller chunks and cut these chunks into 1/8-inch-thick slices. Add to onions and stir together well.

4. Pour 3/4 cup of chicken broth evenly over squash. Cover dish tightly with lid or foil and bake for about 70 minutes, or until squash is tender and broth is nearly all absorbed. If squash appears dry, add remaining 1/4 cup broth.

5. Sprinkle squash with reserved bread crumb mixture. Bake until topping is golden, about 20 minutes longer.

*Or use Cabot Garlic & Herb Cheddar.
Nutrition Analysis
Calories 199 , Total Fat 11g , Saturated Fat 6g , Sodium 466mg , Carbohydrates 19g , Dietary Fiber 3g , Protein 8g , Calcium 210mg
Recipe & photo courtesy of Cabot Creamery Cooperative
www.cabotcheese.com