See also: Brussels Sprouts Selecting & Cooking;
Trivia & Facts; When Did Brussels Sprout?; Quotes; Brussels Sprouts Recipes
Brussels Sprouts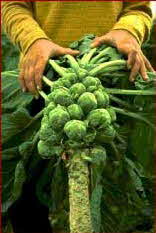 The bitter flavor components are concentrated in the center of the sprout. Cutting the sprouts in half and cooking in a large pot of boiling water will leach out these bitter components.

Brussels sprouts nutty flavor pairs well with chestnuts.

Smaller sprouts are usually more tender and sweeter, but with somewhat less flavor.

Quick high heat cooking methods work best.

When buying Brussels sprouts, avoid yellow or yellow-green leaves, or leaves that are loose, soft or wilted. Small holes may indicated worm injury.

Brussels sprouts are high in fiber carbohydrates, low sodium, fat free, and are a good source of vitamins A and C, potassium and iron.
Storage and handling:
Store in a loosely sealed plastic bag in the refrigerator for no more than 2 days. Before serving, remove from stalk, peel off the outer layer or two of leaves, and take a thin slice off the stem end. Rinse in cold water. Cut an X in the core for even cooking.

Preparation:
Steam:
• small brussels sprouts 6-8 minutes
• medium ones 8-10 minutes
• large ones 10-12 minutes.
Boil in small amount of water until just tender
• 4-5 minutes for small sprouts
• 5-8 minutes medium
• 8-12 minutes large.
Saute thinly sliced sprouts in a flavorfui fat (butter, olive oil, bacon grease) for 4-5 minutes.
Microwave a half pound of sprouts in a covered dish with 1/4 cup water;
• small sprouts take 2 minutes
• medium ones 4 and
• large ones 8.