ZEBU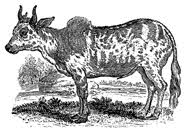 Zebu, Bos indicus, is a domesticated humped species of cattle used as a draft animal in Africa, India and Asia. Zebu are the sacred cattle of India, and when crossbred with other domesticated cattle have produced the Brahman cattle. Zebu are believed to be descended from the banteng, a wild ox from Borneo and Java.
FOOD TRIVIA and FOOD FACTS
Please feel free to link to any pages of FoodReference.com from your website.
For permission to use any of this content please E-mail: [email protected]
All contents are copyright © 1990 - 2023 James T. Ehler and www.FoodReference.com unless otherwise noted.
All rights reserved. You may copy and use portions of this website for non-commercial, personal use only.
Any other use of these materials without prior written authorization is not very nice and violates the copyright.
Please take the time to request permission.


FoodReference.com (since 1999)
FOOD TRIVIA and FOOD FACTS SECTION