KOHLRABI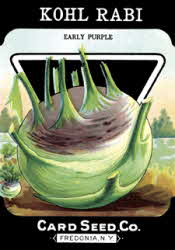 Kohlrabi (Brassica oleracea, Gongylodes group), also known as turnip cabbage, is a form of cabbage, a member of the mustard family. It is not a root vegetable, but rather a fleshy bulbous stem just above the ground. Kohlrabi is of European origin, and popular in Germany, Russia, Hungary and also in China (gai laarn tau).
There are both green and purple skinned types, and both have creamy white flesh. Kohlrabi may look like a turnip, but its taste is very different, with a sweet, peppery, broccoli/cucumber flavor and crisp texture. They are excellent raw by itself and in salads, and may also be steamed, stir fried, braised or stuffed. The cooked leaves have a collard like flavor.
Kohlrabi is high in fiber, and excellent source of vitamin C and a good source of potassium. It contains about 40 calories per cup.