HAZELNUT TRIVIA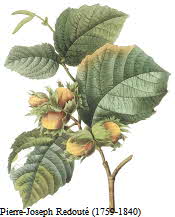 The hazlenut (Corylus maxima) also known as filbert, blooms and pollinates in the middle of winter. The nuts begin to grow in the spring, and the are allowed to ripen until they fall off the trees and are then harvested. These trees can keep producing nuts for several hundred years.

Names - Hazelnut and Filbert: One theory of the origin of the name 'filbert' is that it comes from St. Philibert, a 7th century Frankish abbot, whose feast day is August 20, which happens to be in the middle of the nutting season in Europe.
Hazel is the older European name.
The Hazelnut (Filbert) was designated as the Official Nut of Oregon in 1989.

Over 95% of the U.S. commercial production of the nut is in Oregon's Williamette valley.

The first commercial filbert orchard in the state of Oregon was the Dorris Ranch in Springfield.

CULINARY SCHOOLS
& COOKING CLASSES
From Amateur & Basic Cooking Classes to Professional Chef Training & Degrees - Associates, Bachelors & Masters - More than 1,000 schools & classes listed for all 50 States, Online and Worldwide
FOOD TRIVIA and FOOD FACTS
Please feel free to link to any pages of FoodReference.com from your website.
For permission to use any of this content please E-mail: [email protected]
All contents are copyright © 1990 - 2023 James T. Ehler and www.FoodReference.com unless otherwise noted.
All rights reserved. You may copy and use portions of this website for non-commercial, personal use only.
Any other use of these materials without prior written authorization is not very nice and violates the copyright.
Please take the time to request permission.
FoodReference.com (since 1999)
FOOD TRIVIA and FOOD FACTS SECTION