HADDOCK
Haddock is a lean, mild flavored fish of the codfish family, and is found in the North Atlantic, with the average weighing about 2-4 pounds.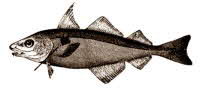 Haddock fillets are one of the most commonly available frozen fillets found in supermarkets. As with cod, the term 'scrod' also refers to haddock of 1 1/2 to 2 pounds. FDA regulations state that the term should include the species name, as 'scrod haddock.'

The most famous dish made with haddock originated in a Scottish village in the 18th century, 'Finnan haddie' smoked haddock, originally called "Findon Haddocks" for Findon, Scotland.