HALIBUT
Halibut is a the largest flatfish, with large fish weighing over 200 pounds. They look like overgrown flounder. The largest recorded halibut weighed 726 pounds and was over 15 feet long. They prefer deep, cold water, and have a life span of 40 years or more. There are two species, an Atlantic and a Pacific species, the Pacific species the smaller of the two.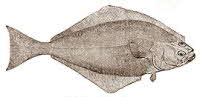 Halibut are white, lean and firm fleshed fish with a suprisingly delicate flavor. Halibut may be substituted for turbot in recipes. Halibut liver produces high-quality cod-liver-oil and is rich in vitamins.

The largest halibut (Atlantic) caught with rod and reel weighed over 255 pounds. The fish was caught in Gloucester, Massachusetts on July 28, 1989 by Sonny Manley.

The largest Pacific halibut weighed 459 pounds, and was caught in Dutch Harbor, Alaska on June 11, 1996.
In 1969 some Dutch fishermen caught a very large halibut off the coast of Norway. The liver of the fish was large enough to feed 11 of them, one even ate about 2/3 of a pound. All of them became nauseous, their skin turned red and swollen, and the next morning their skin was peeling off in sheets. They were all suffering from an overdose of Vitamin A (hypervitamintosis A). The one who ate 2/3 pound of the halibut liver ingested the equivalent of 2,000 multivitamin tablets (about 30 million units of vitamin A)! (The Food Chronology)