HALLOWEEN
Halloween Articles --- Halloween Recipes

Pumpkin Trivia & Recipes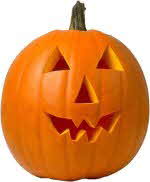 Halloween dates back about 2,000 years to the Celtic festival of 'Samhain.' The ancient tradition is associated with witches, ghosts and vampires. Today, Halloween has evolved into a child-friendly celebration with dressing in costumes, trick-or-treating and carving pumpkins.

In 2017 there were an estimated 41.1 million potential trick-or-treaters age 5 to 14 in the U.S.
There were 50,900 acres of pumpkins harvested in the U.S. in 2013 with an estimated value of almost $150 million. (usda)

43% of people say the narrow white end of candy corn should be eaten first.
Men (48%) are more likely than women (39%) to give more candy to those with cute or original costumes.

More than 80% of parents confess to eating some of their child's Halloween candy haul. About 26% wait until the kids go to bed or school before sneaking some candy!
In 2013, 74% of U.S. households plan to give out candy to treat-or-treaters - 80% of households with children plan to do so. About 1/2 will hand out 2 pieces of candy and 22% will give 3 pieces to each trick-or-treater.

Total production of pumpkins by major pumpkin-producing states in 2009 was 931 million pounds. (USDA National Agricultural Statistics Service)
In the U.S., the first recorded instance of a Halloween celebration occurred in Anoka, Minnesota in 1921.
Total production of major pumpkin-producing states in 2007 was 1.1 billion pounds. Illinois led the country by producing 542 million pounds of the vined orange gourd. Pumpkin patches in Ohio, California and New York also provided lots of pumpkins: Each state produced at least 100 million pounds. The value of all pumpkins produced by major pumpkin-producing states was $117 million.

Per capita consumption of candy by Americans in 2002 was 24 pounds; it is believed a large portion is consumed by kids on and during the days immediately following Halloween.

Candy consumption has actually declined over the last few years: in 1997, each American gobbled or savored more than 27 pounds a year.
US Census Bureau

FREE Magazines
and other Publications
An extensive selection of free magazines and other publications
FOOD TRIVIA and FOOD FACTS
Please feel free to link to any pages of FoodReference.com from your website.
For permission to use any of this content please E-mail: [email protected]
All contents are copyright © 1990 - 2023 James T. Ehler and www.FoodReference.com unless otherwise noted.
All rights reserved. You may copy and use portions of this website for non-commercial, personal use only.
Any other use of these materials without prior written authorization is not very nice and violates the copyright.
Please take the time to request permission.
CULINARY SCHOOLS
& COOKING CLASSES
From Amateur & Basic Cooking Classes to Professional Chef Training & Degrees
FoodReference.com (since 1999)
FOOD TRIVIA and FOOD FACTS SECTION