See also: Other Christmas Trivia; Christmas Advertising; Christmas Food Customs; Eggnog Riot; Holiday Recipes; Christmas Quotes; Holiday Articles
CHRISTMAS FOOD TRIVIA
Note: These fun Christmas facts and trivia are about the secular aspects of this day, and are not in any way intended to trivialize this important Christian Holy Day.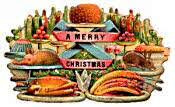 For a few days around Christmas 2010, UK Burger King restaurants offered a 'Sprout Suprise Whopper'. It was a classic Burger King Whopper with Brussels sprouts and Emmental cheese.

On Christmas Day in 2008 almost 39,000 copies of iFart, a flatulance simulation software app, were downloaded.

On Christmas eve or Christmas day 2006 in the Chicago suburb of Villa Park, thieves stole a semi tractor trailer filled with broccoli. It was valued at $50,000.

Animal Cracker's were introduced at Christmastime in 1902. The carrying string on the box was designed so it could be hung on a Christmas Tree.

George I of England tasted his first Christmas pudding in 1714. It included 5 pounds of suet and 1 pound of plums.
In 1769 the crew of Captain Cook's 'Endeavour' celebrated Christmas in the Pacific with a goose pie and "all hands as drunk as our forefathers used to be upon like occasion."

The candy cane supposedly originated in 1670 when the choirmaster of Cologne Cathedral had candies made in the shape of a shepherd's crook. He distributed them to childred attending the church's creche scene to encourage them to silence.
Today more than 1.75 million candy canes are made each year for the Christmas season.

Bizochito is a small anise flavored sugar cookie or shortbread cookie, and is the official state cookie of New Mexico. Traditionally served at Christmas and special occasions such as weddings and baptisms.
The enoki mushroom is also known as the Christmas mushroom.

Good luck or an extra present goes to the first one to find a glass pickle ornament hidden on a Christmas tree. This German custom originated in an ornament making district, and has spread to the United States.

Berrien Springs, Michigan calls itself the Christmas Pickle Capital of the World. There is an annual Christmas Pickle Celebration in early December with a Pickle Parade lead by the Grand Dillmeister

Mince pies date back to medieval times and possibly long before. They are descended from a huge pie baked on Christmas Eve containing chopped beef, suet, nuts, spices and fruit of which whole dried plums were an important constituent. The pie was originally baked open but as time wore on a crust was added, on top of which a pastry effigy of the infant Jesus was laid to represent him lying in his cradle.
"....while visions of sugarplums danced in their head". Those famous sugarplums which fill children's dreams at Christmas were originally sugar coated coriander seeds, a treat that offered a sweet start and then a spicy burst of flavor. Later the recipe included small bits of fruit and became the confection we know today.

In the year 1213, England's King John (1166-1216) ordered 3,000 capons, 1,000 salted eels, 400 hogs, 100 pounds of almonds, and 24 casks of wine for his Christmas festivities.

In 1377 at the Christmas feast of King Richard II of England, 28 oxen and 300 sheep were consumed.
In 1415, England's Henry V orders food distributed to the citizens of Rouen, who are trapped by his siege. Henry himself dines on roast porpoise.

In 1512 the Duke of Northumberland was served 5 swans for Christmas dinner.

In 1580, the Christmas feasts of Sir William Petrie includes 17 oxen, 14 steers, 29 calves, 5 hogs, 13 bucks, 54 lambs, 129 sheep and one ton of cheese.

England's 'Long Parliament' of 1646 banned mince pie, Christmas pudding and Christmas dinners of more than 3 courses. These laws were never repealed, so technically they are still in effect!

Early New Englanders gave carrot cookies as Christmas gifts.

American explorer Zebulon Pike celebrated Christmas (1806) by allowing 'two pounds extra of meat, two pounds extra of flour, one gill of whiskey, and some tobacco, to each man, in order to distinguish Christmas Day.'
Henry VIII was the first English king to enjoy turkey, although Edward VII made eating turkey fashionable at Christmas.

In 1852 a 446 pound baron of beef was served to Queen Victoria and the royal family.

In Queen Victoria's day, oranges were a treasured Christmas gift in England.

Camel was listed on the Voison restaurant's Christmas Eve menu during the siege of Paris in 1870.

In 'The Adventure of the Blue Carbuncle' by Arthur Conan Doyle, Sherlock Holmes investigates the mystery of a Christmas goose that swallowed a jewel.

Australia: On Christmas Eve snacks are left out for Father Christmas (cookies and milk, or maybe some beer?) and water for the kangaroos that pull his sleigh while in Australian airspace.

Austria: A typical Christmas dinner would consist of braised carp served with gingerbread and beer sauce, but as in many countries turkey is becoming more popular. Christmas baking is a tradition, with dozens of cookie varieties, cakes and Christstollen bread.

Germany: The Germans tend to have a game feast on Christmas day, usually wild boar or venison. According to German tradition, partaking in a roast of pork dinner on Christmas Eve will prevent evil and promote prosperity in the New Year.
Ireland: There are 3 special puddings made for the holidays; one for Christmas, one for New Year's and another for Twelfth Night.

Italy: Tortellini is a specialty of the Bolognese Christmas dinner (filled with turkey, ham, and sausage forcemeat).

Ireland: Turkey with whiskey glaze - whiskey and honey together with a splash of orange will give an impressive and great tasting twist to the traditional bird.
British Turkey Information Service (www.britishturkey.co.uk)
Jamaica: Christmas dinner usually consists of rice, gungo peas, chicken, ox tail and curried goat.

Mexico: In Oaxaca, Mexico, Christmas Eve is also the Night of the Radishes, when large radishes are cut into animal shapes.

Netherlands: The Dutch eat chicken stuffed with sauerkraut at Christmas to mark the end the year and celebrate the beginning of the New Year. The reason for chicken? Because the animal scratches the ground, it symbolizes scratching the earth over the old year.
(www.Steinfeldssauerkraut.com)
Norway: The big festive feast takes place on Christmas Eve. Most people around the coastal regions eat fish - concoctions of cod and haddock and a variety called lutefisk. Inland they go for pork chops, specially prepared sausages and occasionally lamb.

Poland: The traditional Christmas Eve supper consists of 12 non-meat dishes, representing the months of the year and featuring fish such as pike, herring and carp. Other typical Polish dishes are fish soup, sauerkraut with wild mushrooms or peas and Polish dumplings with various fillings.

Scotland: Rich tatties and neeps - a traditional dish made with mashed potatoes, Swede, carrots, onion and butter, garnished with chives and black pepper.
Sweden: Hiding an almond inside rice pudding is a Christmas custom in Sweden. Whoever gets it has good luck for the new year.

United Kingdom: The majority of families (90%) around the UK consider turkey a Christmas tradition. According to the British Turkey Information Service, UK residents consumed 10 million turkeys in 2000 for Christmas, along with 25 million Christmas puddings, 250 million pints of beer and 35 million bottles of wine.

Wales: Leek and onion sauce to accompany the turkey. Leeks, onion, cloves, breadcrumbs, milk, nutmeg and bay leaves blended to create a thick and creamy alternative to ordinary bread sauce.
Stargazy pie is a fish pie of Cornish origin. It is made with the fishes' heads sticking out of the crust all round the rim, and presumably takes its name from their appearance of gazing skywards. In her Observer Guide to British Cookery (1984) Jane Grigson notes that 'it is a specialty of Mousehole where they make it on 23 December every year, Tom Bawcock's Eve, in memory of the fisherman who saved the town from a hungry Christmas one stormy winter.'