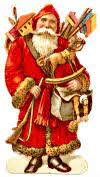 See also: Christmas Food Trivia; Christmas Food Customs; Other Christmas Trivia; Christmas Tree Trivia; Eggnog Riot; Holiday Recipes; Christmas Quotes; Holiday Articles
CHRISTMAS ADVERTISING
An advertisement in 1910 for Ivory Soap showed a child waiting for Santa Claus in front of a fireplace with a bol of water, a towel and a bar of Ivory soap so Santa could wash up after coming down the sooty chimney.

In 1843 English businessman Sir Henry Cole commissioned artist John Calcott Horsley to produce the first printed Christmas Cards.

Robert May created Rudolph the Red Nosed Reindeer in 1939 as a Christmas promotion for Montgomery Ward department store in Chicago.

The first Christmas cards printed in the United States were sent by businesses to their customers in the 1850s. Pease's Great Variety Store in Albany, New York was one of the first stores to use this form of advertising.
In 1931 the Coca-Cola Company commissioned artist Haddon Sundblom to show Santa drinking a Coke to encourage sales in the winter months. From 1931 to 1964 these annual ads became a Christmas tradition, and helped to reinforce the modern American image of Santa Claus (which had been forming since the early 1900s): a rotund, jolly and bearded man, dressed in a red outfit trimmed in white fur with a broad black belt and black boots.
Note: These fun Christmas facts and trivia are about the secular aspects of this day, and are not in any way intended to trivialize this important Christian Holy Day.

Please feel free to link to any pages of FoodReference.com from your website.
For permission to use any of this content please E-mail: [email protected]
All contents are copyright © 1990 - 2023 James T. Ehler and www.FoodReference.com unless otherwise noted.
All rights reserved. You may copy and use portions of this website for non-commercial, personal use only.
Any other use of these materials without prior written authorization is not very nice and violates the copyright.
Please take the time to request permission.
FOOD TRIVIA and FOOD FACTS
CULINARY SCHOOLS
& COOKING CLASSES
From Amateur & Basic Cooking Classes to Professional Chef Training & Degrees
FoodReference.com (since 1999)
FOOD TRIVIA and FOOD FACTS SECTION