See Also: Artichoke Recipes Article On Artichokes;
Kitchen Tips and Artichoke Quotes
ARTICHOKES: Trivia and Facts

Artichokes are actually a flower bud - if allowed to flower, blossoms measure up to seven inches in diameter and are a violet-blue color. Artichokes are a close relative to the thistle.
CDC.gov

Globe artichokes are the large, unopened flower bud of a plant belonging to the thistle family. The many leaf-like parts making up the bud are called scales. Peak season is in April and May.

Two Artichokes
Rafuse, Will
12 in. x 10 in.
Buy this Mounted Print at AllPosters.com

Artichoke Hearts are baby artichokes with tender leaves that are picked before the prickly inner 'choke' has developed.

The fleshy base or heart is edible after the hairy central 'choke' is removed. The bases of the leaves are also edible.

Artichoke Bottoms are the insides of artichokes with all the leaves & choke removed, leaving just the meaty concave base.

Two compounds in artichokes, cynarin and chlorogenic acid, stimulate the sweetness receptors and make everything taste sweeter for a short period of time. Only some people (about 40-60%) experience this and sensitivity to these compounds is most likely genetically determined. The effect usually goes away after drinking some water, milk, wine, etc. (which will taste sweet).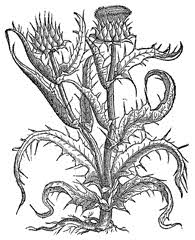 The artichoke was first developed in Sicily and was known to both the Greeks and the Romans. In 77 AD the Roman naturalist Pliny called the choke one of earth's monstrosities, but many continued to eat them. Historical accounts show that wealthy Romans enjoyed artichokes prepared in honey and vinegar, seasoned with cumin, so that this treat would be available year round.
It was not until the early twentieth century that artichokes were grown in the United States. All artichokes commercially grown in the United States are grown in California.
CDC.gov - Nutrition & Physical Activity
In the U.S., Artichokes were first grown in Louisiana, brought there by settlers in the 19th century.
In 1947, Marilyn Monroe was crowned the first Queen of the Artichokes!
Castroville, California is known as the Artichoke Capital of the World. (It is where Norma Jean (Marilyn Monroe) was crowned Artichoke Queen in 1947.
Cynar is an artichoke flavored aperitif made in Italy.

FREE Magazines
and other Publications
An extensive selection of free magazines and other publications
FOOD TRIVIA and FOOD FACTS
Please feel free to link to any pages of FoodReference.com from your website.
For permission to use any of this content please E-mail: [email protected]
All contents are copyright © 1990 - 2023 James T. Ehler and www.FoodReference.com unless otherwise noted.
All rights reserved. You may copy and use portions of this website for non-commercial, personal use only.
Any other use of these materials without prior written authorization is not very nice and violates the copyright.
Please take the time to request permission.
CULINARY SCHOOLS
& COOKING CLASSES
From Amateur & Basic Cooking Classes to Professional Chef Training & Degrees
FoodReference.com (since 1999)
FOOD TRIVIA and FOOD FACTS SECTION