ARCTIC CHAR
Arctic char is a silver fish in the salmon family. Highly adapted to frigid waters, Arctic char is distributed further north than any other freshwater fish; it can be found in lakes only 500 miles from the pole.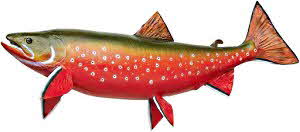 Like its cousin the salmon, both anadromous (seagoing) and freshwater populations of char exist. The animals spend their winters dormant underneath the thick ice covering lakes in northern Canada, Russia, Greenland, Norway, Iceland, and the islands of the Barents Sea. During the spring thaw, seagoing char migrate to the ocean where they spend the next few months.

While most char live above the arctic circle, relic populations of landlocked char are also found throughout northern Europe and in parts of North America and Asia, stranded in glacial lakes at the end of the last ice age.
(Seafood Choices Alliance - www.seafoodchoices.com/)
CULINARY SCHOOLS
& COOKING CLASSES
From Amateur & Basic Cooking Classes to Professional Chef Training & Degrees - Associates, Bachelors & Masters - More than 1,000 schools & classes listed for all 50 States, Online and Worldwide
FOOD TRIVIA and FOOD FACTS
Please feel free to link to any pages of FoodReference.com from your website.
For permission to use any of this content please E-mail: [email protected]
All contents are copyright © 1990 - 2023 James T. Ehler and www.FoodReference.com unless otherwise noted.
All rights reserved. You may copy and use portions of this website for non-commercial, personal use only.
Any other use of these materials without prior written authorization is not very nice and violates the copyright.
Please take the time to request permission.
FoodReference.com (since 1999)
FOOD TRIVIA and FOOD FACTS SECTION