CHAROSET (Sephardic Style)
Passover Recipe from El Al
Chef Steven Weintraub, Executive Chef of Borenstein Caterers, freshly prepares all EL AL meals for flights departing New York (JFK/Newark).

EL AL passengers can create a wonderful Passover cuisine at home with the following five recipes from Borenstein Caterers:
Charoset (Sephardic Style)
Leek & Parsley Matzo Ball Recipe
Cauliflower-Leek Kugel, with Almond-Herb Crust
Halibut With Carrots, Fennel, Lemon and Garlic
CHAROSET RECIPE (Sephardic Style)
a la Executive Chef Steven Weintraub of Borenstein Caterers
Serves 4 as a dessert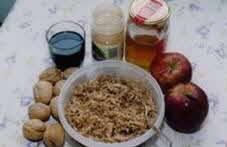 Ingredients:
· 20 dates, pitted
· 3 bananas
· 1/2 cup golden raisins
· 1/4 cup sweet red wine
· 3 tablespoons silan (date syrup) or honey
· 4 tablespoons orange juice
· 2 tablespoons finely grated orange zest
· 1/2 cup walnuts, toasted
· 1/2 cup unsalted pistachios, toasted
· 1/2 cup almonds, toasted
· 1 ½ teaspoon cinnamon
· 1 teaspoon allspice
· 1/2 teaspoon ginger
· 1 teaspoon nutmeg
· teaspoon ground cloves

Preparation:
In a food processor, puree dates until smooth.

Add bananas, raisins, wine, orange juice and silan syrup (or honey) and process to combine.

Add walnuts, pistachios, almonds, cinnamon, ginger, nutmeg, cloves and orange zest. Process until smooth.

Store covered at room temperature until ready to serve.