GEFILTE FISH TERRINE RECIPE
Passover Recipe from El Al
Chef Steven Weintraub, Executive Chef of Borenstein Caterers, freshly prepares all EL AL meals for flights departing New York (JFK/Newark).
EL AL passengers can create a wonderful Passover cuisine at home with the following five recipes from Borenstein Caterers:
Gefilte Fish Terrine
Leek & Parsley Matzo Ball Recipe
Cauliflower-Leek Kugel, with Almond-Herb Crust
Halibut With Carrots, Fennel, Lemon and Garlic

GEFILTE FISH TERRINE
a la Executive Chef Steven Weintraub of Borenstein Caterers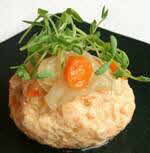 Ingredients:
· 1 tablespoon margarine
· 2 pounds halibut fillet, skinned and boned
· 1 pound salmon fillet, skinned and boned
· 3 tablespoons vegetable oil
· 4 medium Spanish onions, diced
· 4 large eggs
· 2 cups cold water
· 6 tablespoons matzo meal
· 2 tablespoons sugar
· 1 tablespoon fresh lemon juice
· 2 tablespoons dill, plus more for garnish
· 2 large carrots, peeled
· 2 tablespoons Italian parsley, plus more for garnish
· Salt and pepper to taste

Preparation:
Preheat the oven to 325 degrees.

Grease a 12-cup Bundt pan with margarine.

Cut the fish into large chucks. Place in the bowl of a food processor. Pulse about 20 times. Do not puree but grind fine. Place in the bowl of an electric mixer.

Heat the oil in a large frying pan and sauté the onions over medium-low heat until soft and transparent. Let cool.

To the fish mixture, add the onions, eggs, 2 cups cold water, matzo meal, salt & pepper, sugar and the lemon juice.

Beat all in the mixer at medium speed, using a paddle attachment, for about 10 minutes. Add the herbs and grate in the carrots. Mix well.

Pour the mixture into the greased Bundt pan.

Smooth the top with a spatula and cover with foil. Place in large pan filled with water which is almost boiling so that water reaches at least halfway up the sides of the Bundt pan.

Bake in the oven for 1 hour or until the center is solid.

Cool mold and remove fish. Refrigerate for several hours or overnight.

Slice as you would a torte and serve as an appetizer. Garnish with parsley and dill.

Serve with horseradish.