CASHEW CHICKEN TWISTS WITH SPICY ORANGE SAUCE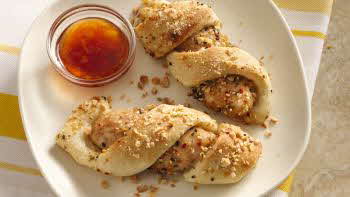 Change up dinner tonight with a fun new idea. Bake dough around chicken fingers and dip in a hot-and-spicy dip. Sriracha is becoming as mainstream as ketchup or salsa with consumers incorporating bold global flavors into their meals.
Prep Time 15 min
Total Time 30 min
Servings 6
INGREDIENTS
• 12 uncooked chicken breast tenders (not breaded) (about 1¼ lb)
• 1/4 cup sweet ginger garlic seasoning*
• 1 can Pillsbury refrigerated original breadsticks
• 1/4 cup finely chopped roasted salted cashews
• 2/3 cup Smucker's Sweet Orange Marmalade
• 1½ teaspoons Sriracha sauce
• 2 teaspoons soy sauce
*If you can't find the sweet ginger garlic seasoning, use a mixture of 2 tablespoons toasted sesame seed, 1 tablespoon sugar, 1 tablespoon ground ginger, 1 teaspoon garlic salt and 1 teaspoon dried parsley flakes.

DIRECTIONS
Step 1
Heat oven to 375°F. Spray large cookie sheet with Crisco Original No-Stick Cooking Spray. In large resealable food-storage plastic bag, place chicken tenders and seasoning; shake in bag to coat. Set aside.

Step 2
Unroll dough. Sprinkle 2 tablespoons of the cashews over dough; press in lightly. Turn dough over; sprinkle with remaining cashews. Separate dough into 12 breadsticks.

Step 3
Wrap one breadstick around each chicken tender (dough will not completely cover chicken). Place 1 inch apart on cookie sheet.

Step 4
Bake 15 to 20 minutes or until golden brown and thermometer inserted in center of chicken reads 165°F.

Step 5
Meanwhile, in small bowl, mix marmalade, Sriracha sauce and soy sauce until well blended. Serve with chicken twists.

Pillsbury Bake-Off Contest 46, 2013 - Lauren Wyler, Austin, Texas